Do you want to know the list of Some Great 6GB RAM Mobile Phones because we think anything lower might not well behave if you're a heavy user and anything above 6GB RAM might be too much? 
In other words, 6GB RAM is that member of a family who's been loved by everyone. 
So, in this article, we've listed 12 Outstanding Smartphone and we mean that word because we have personally previewed 22 smartphones with 6GB RAM and concluded this list. Let's Begin
(*Note: We'll be updating this list of the best 6GB RAM Mobile Phones regularly as new devices launch, so you can always stay Updated.)
Top 6GB RAM Mobile Handsets You can Buy Right Now-
---
1. Asus Zenfone 6Z
Configuration
I am pretty much sure that you haven't even anticipated or known that this phone will be in 6GB RAM Mobile Handsets list but believe me; Asus Zenfone 6Z is really the most Underrated Flagship in the Market.
The Price is Decent, and it's a futuristic phone with a Flip Camera, bezel-less design and an Outstanding Performance. But I think somewhere in the crowd; this beast has lost its pride.
Asus has left nothing short of hardware and software in the 6Z. In this, you have been given Snapdragon 855 chipset, with the latest Qualcomm Processor.
What makes it special is its camera. While a lot of People select a pop-up or a punch-hole Display Camera, the Zenfone 6's back camera can literally turn to end up being the selfie camera.
Its Ultra-wide sensors are terrific for catching any kind of moment without compromising screen room. 
Reasons to Buy-
Asus Zenfone 6Z is a 6GB RAM Mobile Phone with 64 GB of Expandable Internal Storage (up to 2TB). 
Besides, the

5000mAh battery

number seems to be so large that there is no question of low battery backup.
The device has a 48 megapixel + 13-megapixel dual primary camera & front that offers scenic and clear photography.
To cover everything off, 5000mAH Massive Battery along with Snapdragon 855 & great cameras, ranks it among the very best 6GB RAM Mobile phones in the market right now.
---
2. Moto One Fusion+
Configuration
Moto One Fusion+ is the latest and one of the Best 6GB RAM Mobile Phones under Budget.
To say nothing of, this 6GB RAM Mobile operates on an octa-core Kryo 485 processor setup (a 2.84 GHz single-core, a 2.42 GHz tri-core and a 1.8 GHz quad-core), based on a Qualcomm Snapdragon 730G chipset, which gives excellent performance.
Moreover, Adreno 640 GPU which handles heavy multitasking and gaming along with graphics.
Reasons to Buy-
Motorola One Fusion + has been launched in only

6 GB RAM

and 128 GB storage variants. Motorola has priced it at Rs 16,999.
Besides, The display is really crisp. It features an IPS LCD panel that comes with

HDR10

support and has three colour modes to choose from.
This smartphone has a quad-camera setup, the main camera is of 64 megapixels.
Additionally, the phone has an 8-megapixel wide-angle, 5-megapixel macro lens and a 2-megapixel depth sensor.
In front, the company has given a 16-megapixel camera.
Motorola One Fusion+ also handles heavy gaming fearlessly. PUBG Mobile can be played by setting the graphics in HD and high-preset.
---
3.Realme X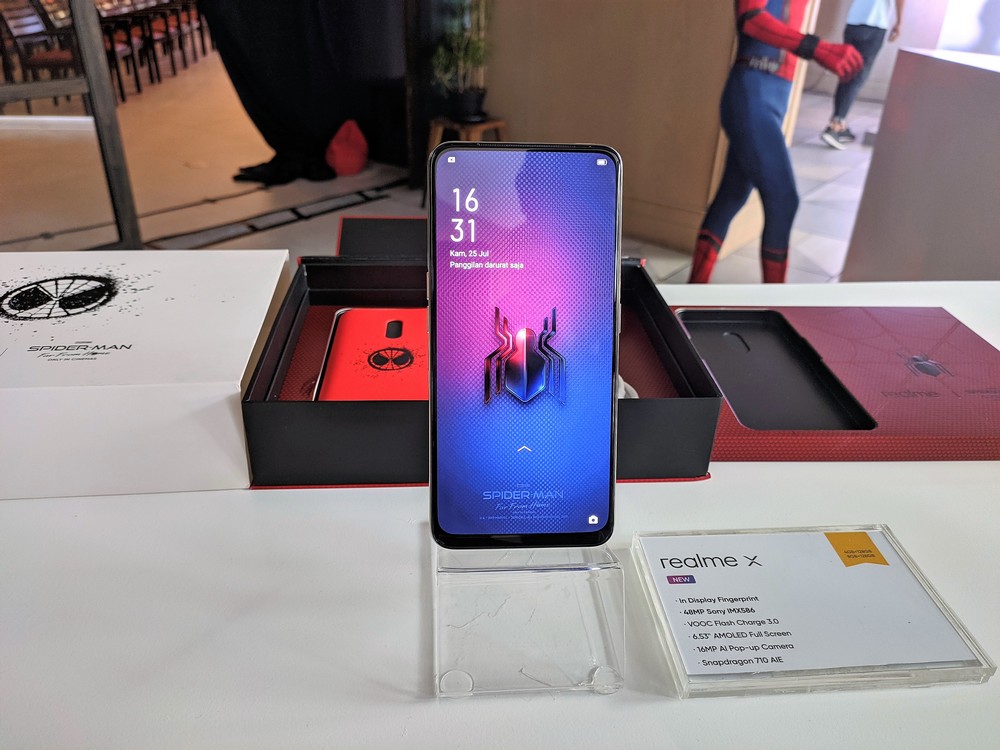 Configuration
Realme X is the first Affordable Flagship device to be listed in the 6GB RAM Mobile Phones list. The X-Factor of this Killer device is its Performance, the 6GB RAM variant of this device makes it a beast under 20k price tag.
Moreover, this Dual Camera smartphone sports Adreno 616 GPU which can handle heavy multitasking and gaming all along.
Reasons to Buy-
In all Honesty, Realme X is a big phone but it is not wide, so the grip is also good while holding the phone.
Besides, this mid-range Flagship device gives you a

Premium

feel because of its look &

Super AMOLED Display

.
Additionally, The phone uses a new gel cooling technology that uses copper foil, graphite flex and aluminium alloys to reduce heat. 
In Realme X, the company has included almost all the latest trendy features like

pop-up

camera,

in-display fingerprint

sensor.
The moment you pick the phone up, the screen turns on, which works almost every time. The unlocking speed is very fast.
---
4.

Xiaomi Redmi K20 Pro
Configuration
To say nothing of, this Pop-Up camera device is one of those 6GB RAM Mobile Phones that operate on an octa-core Kryo 485 processor setup (a 2.84 GHz single-core, a 2.42 GHz tri-core and a 1.8 GHz quad-core), based on a Qualcomm Snapdragon 835 chipset, which sports an extraordinary performance at Under 25k INR.
Moreover, Adreno 640 GPU which handles heavy multitasking and gaming along with graphics.
Reasons to Buy-
In all Honesty, the

Xiaomi Redmi K20 Pro

is an excellent device with all the useful features available.
Besides, this mid-range device gives users a premium feel.
Additionally, the robust configuration present in it is capable of handling multiple tasks simultaneously.
Also, this does not compromise the use of graphics-intensive games and high multimedia.
Moreover, the front camera of the device brings in an excellent photography experience.
However, there is no expandable storage option in the device, but the inbuilt space is enormous.
---
5.One Plus 8 5G
Configuration
The OnePlus 8 5G comes with a Qualcomm Snapdragon 865 chip powered by Kryo 585 CPU octa-core processor, with a 2.86GHz of clock speed. It has an Adreno 650 GPU, which offers excellent graphics quality. This 6GB RAM Mobile is great for multitasking and gaming experience.
Also Read 4+ Rated Top Gaming Phones for Geek
The device has a 4,300 mAh Li-ion battery that can provide long-term power backup and also has a warp charging technology, which is one of the fastest techniques to charge the device.
Reasons to Buy-
To tell the Truth, OnePlus 8 5G is an impressive smartphone in the flagship category.
Also, It has an immersive display, which enhances the viewing experience.
The device's large and sharp screen also comes with glass protection.
Additionally, this Massive

6GB RAM

Mobile Handset has a robust configuration which is perfect for high-end games and performance.
Not only this but also with its Charging Technology, the battery provides a day of backup.
Thus, looking at all the features, it is indeed a great 6GB Ram Mobile in India.
---
6. Vivo V15 Pro
Configuration
The Vivo V15 Pro is equipped with an octa-core (2 GHz Kryo 460 dual-core and 1.7 GHz Kroyo 460 hexa-core) processor setup based on a Qualcomm Snapdragon 675 chipset. The device has 6GB RAM, which makes multitasking easier.
To improve the graphics quality, it has an Adreno 612 graphics processor.
This smartphone has a 3,700 mAh Li-ion battery for power backup, which is capable of giving a full day backup on a single charge. It also has a quick charging feature.
Reasons to Buy-
In the end, the Vivo V15 Pro is a flagship smartphone with many high-end features.
Subsequently, the display of the device is quite good and gives users a great experience of watching movies and videos.
More Importantly, this 6GB RAM Mobile is another excellent device to go along with but you should consider some great alternatives as the device is a bit old.
The storage capacity of the smartphone is also good.
Its cameras are capable of clicking good pictures even in low light conditions.
---
7. Samsung Galaxy Note 10 Plus
Configuration
When we talk about 6GB RAM Mobile Handsets, we can't miss this masterpiece by Samsung. The Samsung Galaxy Note 10 Plus features an octa-core processor setup (2.7 GHz M4 Mongoose dual-core, a 2.3 GHz Cortex A75 dual-core and 1.9 GHz Cortex A55 quad-core), which is Samsung's own Exynos 9 Octa.
The 9820 is based on the chipset. It has 8GB of RAM to handle several apps at once with ease, which makes it another great performer in amongst 6GB RAM Mobile Devices list. Also, the Mali-G72 MP12 GPU provided in it helps to meet graphical needs.
Reasons to Buy-
To Conclude, Samsung Galaxy Note 10 Plus is a popular flagship device of the famous brand. In which users will get all the features that they want to keep in their device.
Additionally, Features like robust configurations, good battery backup and excellent camera setup will attract users to the device.
Also, it has the facility of wireless charging and fast charging.
Overall, this device is one of the best options available around this price with 6GB+ RAM.
---
8. Samsung Galaxy A70s

Configuration
Samsung Galaxy A70S has 128 GB internal memory, which can store up to 512 GB of additional data with the help of MicroSD card.
This smartphone is based on a Qualcomm Snapdragon 730 chipset that works as a two Kroyo 470 processor on a 2.2 GHz dual-core and 1.8 GHz hexacore processor.
This 6GB RAM Mobile handles multitasking & heavy games without lagging. At the same time, Adreno 618 GPU has been given for excellent graphics quality.
Reasons to Buy-
At last, Samsung Galaxy A70S has been given many great features that make the device extremely special.
Moreover, It has a vast storage capacity in which a lot of files and documents can be stored.
In Addition to the Storage, the Massive

6GB RAM

provides an outstanding performance.
In fact, this Smartphone has excellent camera quality and good battery backup.
However, battery backup could be further improved in this price device.
---
9. Samsung Galaxy A80
Configuration
The Samsung Galaxy A80 smartphone is powered by a Qualcomm Snapdragon 730G chipset and an octa-core processor, running at a speed of 2.2 GHz. It has an Adreno 618 GPU for excellent graphics quality.
At the same time, this 6GB RAM Mobile list is incomplete without this as this powerful smartphone is built to manage heavy gaming & multitasking without getting heated. (*Note: The Price is too High as Compared to its Competitors).
It has a 3,700 mAh Li-polymer battery, which is enough to provide a day of backup. Also, with the help of fast charging technology, the battery can be refilled in a short time.
Reasons to Buy-
Lastly, the Samsung Galaxy A80 features several great features with a flagship price-tag.
In addition to that, the main attraction of this

8GB RAM Mobile

is the Presence of full bezel-less display.
The front camera design is also exceptional. Apart from this, it also has a great rear camera.
On the other hand, the battery of this Phone gives a good backup, and its performance is also outstanding.
---
10. Oppo Reno 2Z
Configuration
The OPPO F9 Pro smartphone comes with 8GB of RAM & 256GB of Expandable Internal Storage. The device operates on a powerful MediaTek Helio P90 chipset with dual-core  Cortex A75 + 2 GHz, Hexa Core, Cortex A55 processors.
The powerful processor of the device is coupled with PowerVR GM9446 GPU and 8GB of RAM is capable of delivering uncatchable performance. The phone also has a fingerprint sensor for the extra security feature.
Reasons to Buy-
In Brief, the Oppo Reno 2Z is a flagship device with a premium price tag.
Meanwhile, it has everything a user wants in their ideal smartphone.
Subsequently, it has a stunning, crisp display ranging from powerful cameras capable of taking fluttering shots.
The reason why I listed Oppo Reno 2Z in this 6GB RAM Mobile Devices List is its Performance. The Performance of this flagship phone is Exceptionally Awesome.
However, the battery used in this smartphone provides a simple backup which can be a bit frustrating for users.
But to meet this deficiency, fast charging support has been provided in the device. Which can fully charge the battery in a short time? Overall this Phone is an excellent option.
---
11. Redmi Note 9 Pro Max
Configuration
The Xiaomi Redmi Note 9 Pro Max features a 6.67-inch IPS LCD display with a punch-hole design, with a screen resolution of 1080 x 2400 pixels and a pixel density of 395 PPI. 
This device works on an octa-core processor with Qualcomm Snapdragon 720G chipset that runs at a speed of 2.3 GHz and is capable of delivering great performance.
It has an Adreno 618 GPU that manages the graphics of the device while it is indeed a 6GB RAM Mobile Handset so you will get a No Lag gaming Experience and a sober Multitasking.
Reasons to Buy-
To be honest, the Xiaomi Redmi Note 9 Pro performance is quite good. 
Xiaomi Redmi Note 9 Pro Max has been launched by the company on a large battery of

5,020 mAh

which supports 33W fast charging.
This phone of Xiaomi supports reverse charging technology, due to which other phones of this phone can also be charged.
Moreover, the camera of the device is capable of meeting the needs of users.
I think this 6GB RAM Mobile doesn't feature a good look because of its punch-hole display in the centre. Had it been in the left or right, it would have made less distraction.
---
12. Honor View 20
Configuration
The Honor View 20 features a 6.4-inch IPS LCD with a screen resolution of 1,080 X 2,310 pixels, with a density of 398 PPI, providing a beautiful view.
The 6GB RAM Mobile sports a Hi-Silicon Kirin 980 chipset and has two dual-core Cortex A76 processors, clock speeds of 2.6 GHz and 1.92 GHz, and a quad-core Cortex A55 processor with clock speeds of 1.8 GHz. It has 6GB of RAM, which helps in multitasking.
The Mali-G76 MP10 GPU is for handling graphics.
Reasons to Buy-
To conclude, Honor View 20 is the company's first smartphone that has an in-display selfie camera.
Furthermore, the battery is sufficient to provide a good backup for several hours.
Additionally, Honor View 20 has a fantastic set of cameras and displays that makes it a great 6GB RAM Mobile.
Overall, it is a premium smartphone with no drawbacks.
---
Conclusion
Above are the very best
6GB RAM Mobile Phones
in our viewpoint, although there are numerous various other fantastic alternatives available. Some of them include
LG ThinQ Series
. 
We are pledged to serve you with the authentic set of News around tech and we are proud to be Unbiased in this category, so do support us by reading our articles and Stay Safe.